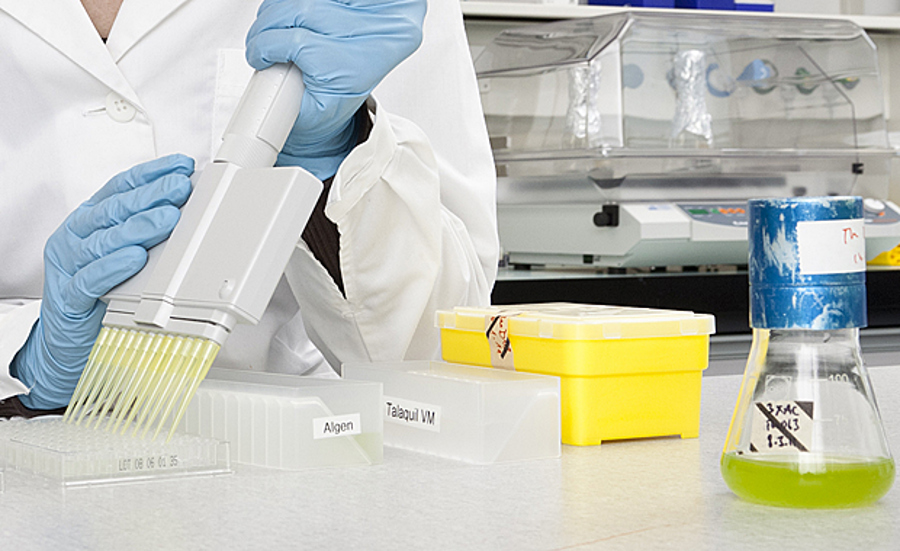 CRED – Plus de transparence et de qualité dans l'évaluation des risques
Groupe de planification: Marlene Ågerstrand (Stockholm University, SE), Anette Küster (UBA, DE), Caroline Moermond (RIVM, NL) , Muris Korkaric (Eawag), Dieter Schudoma (UBA, DE)
L'évaluation des risques écotoxicologiques a pour objet d'estimer le danger potentiel que représentent les polluants chimiques pour les écosystèmes. Pour déterminer des seuils auxquels se référer – des normes ou critères de qualité environnementale -, il est indispensable de disposer de données écotoxicologiques fiables et pertinentes.
Dans les procédures d'autorisation des substances chimiques (ECHA 2008, EMEA 2006, EEC 1991) ou dans leur évaluation rétrospective en application de la directive cadre sur l'eau (EC 2011), ces données sont en général sélectionnées à partir des critères définis par Klimisch (1997). Plusieurs études ont cependant montré que ces critères étaient insuffisamment précis pour garantir la constance du diagnostic et qu'un travail d'harmonisation devait être effectué à l'échelle internationale.
Pour répondre à ce besoin, des essais inter-laboratoires vont être menés dans un réseau international afin de tester sur un choix de substances une méthode de sélection tenant compte de critères supplémentaires (proposés par Ågerstrand et al. 2011, Kuester et al. 2009). Les résultats obtenus en matière de validité, de pertinence et de plausibilité des données seront ensuite comparés à ceux de la méthode classique. L'objectif de cette démarche est d'accroître la transparence et la reproductibilité des travaux d'évaluation des risques écotoxicologiques réalisés par différents experts et de conférer par là même une meilleure assise à la prise de décision en matière d'environnement.
Publications
Kase, R., Korkaric, M., Werner, I., Ågerstrand, M. (2016): Criteria for Reporting and Evaluating ecotoxicity Data (CRED): Comparison and perception of the Klimisch and CRED methods for evaluating reliability and relevance of ecotoxicity studies. Environmental Sciences Europe 2016, 28:7; DOI: 10.1186/s12302-016-0073-x 
Download l'article
Moermond, C.T., Kase, R., Korkaric, M., Ågerstrand, M. (2016) CRED: Criteria for reporting and evaluating ecotoxicity data. Environmental Toxicology and Chemistry, 35, 1297–1309

Download von Wiley
Références
Ågerstrand, M., et al. (2011) Reporting and evaluation criteria as means towards a transparent use of ecotoxicity data for environmental risk assessment of pharmaceuticals, Environmental Pollution 159:2487-2492
European Economic Community (1991). Council Directive 91/414/EEC of 15 July1991 concerning the placing of plant protection products on the market Official Journal L 230, 19/08/1991 P. 0001 - 0032.
ECHA (European Chemicals Agency) (2008): Guidance information for the implementation of REACH. Guidance on information requirements and chemical safety assessment. Chapter R.4: Evaluation of available information.
European Commission (2011). Common implementation strategy for the Water Framework Directive (2000/60/EC). Technical guidance for deriving environmental quality standards (TGD-EQS). Guidance document No. 27. Technical Report - 2011 – 055. DOI: 10.2779
EMEA (2006) Guideline on the Environmental Risk Assessment of Medicinal Products for Human Use, CHMP/SWP/4447/00
EU Water Framework Directive (2000) Directive 2000/60/EC of the European Parliament and of the Council
Klimisch, H.J., Andreae, M., Tillmann, U. (1997). A systematic approach for evaluating the quality of experimental toxicological and ecotoxicological data. Regul. Toxicol. Pharmacol. 25, 1–5.
Küster, A., Bachmann, J., Brandt, U., Ebert, I., Hickmann, S., Klein-Goedicke, J., Maack, G., Schmitz, S., Thumm, E., Rechenberg, B. (2009): Regulatory demands on data quality for the environmental risk assessment of pharmaceuticals. Regulatory Toxicology and Pharmacology 55, 276-280.